No doubt trampoline is made for relaxation and entertainment. But the thing is that if you don't clean it regularly, it will lose its worth.
 Now if your trampoline is in the backyard. Then it faces dirt and dust every day. So, it is your prime duty to clean it properly.
Cleaning the trampoline is very simple. It does not require much time.
How to Clean a Trampoline Some Tips that will help you
Before cleaning the trampoline, you should choose a sunny day. On a sunny day, the trampoline will be dry off quickly.
Things to gather
Before cleaning up the trampoline, gather the following standard household equipment.
Scrubbing brush with soft bristles.
Warm soapy water in a tub
Long handle brush
Small brush
Water hose for washing out and flushing
A dustpan
Sweep off the trampoline
It is the simplest method to clean your trampoline. You can use this method for daily cleansing.
If you have placed a trampoline under any tree or in an uncovered position, then many debris, stones, and dust can accumulate over the mat. Small stones can also damage mat clothing and can create tiny holes in it.
First of all, sweep off all the dirt from your trampoline with the help of a long brush if you possess a spring trampoline. Then you will need the help of another person to hold the trampoline. Then you will sweep off all the dust and dirt from the trampoline.
Soak the mat
Just sweeping is not enough sometimes. It would help if you had something better to clean the mat. Mostly this situation appears after rainfall. After rainfall dirt accumulates on the trampoline. The best way to remove that dirt is to rinse thoroughly with water. Rinse your mat with the help of a water hose. Don't use pressure washers as they can damage the texture of the mat.
Scrub
This step is crucial in good cleaning of a trampoline. Sometimes only rinsing doesn't work. This happens when you have left the trampoline uncovered for an extended period or the dirt stuck on the mat. Scrubbing is also necessary if the mat is producing a smell.
 Scrub will remove all the deposited dirt from the trampoline. Use a mild detergent or dishwashing liquid to produce scrubbing results. Always use a soft and gentle scrubbing brush. Please don't use a hard or metallic scrubbing brush as it can damage the trampoline fibre.
Gently start scrubbing with the help of a scrubbing brush. Dip scrubbing brush into warm soapy water for a while. And then start scrubbing. Don't swab too hard as it will damage the material. You can scrub in categories and then rinse clean categories with water. Or you can also scrub the entire trampoline at once.
Rinse thoroughly
After scrubbing the next step is rinsing. Wash out the whole mat with warm, clean water. Use a water hose for this purpose. Rinse properly to remove all the soap from your mat because soap deposits can—damage fabric.
Dry
Now your washing is completed.The next step is drying off coverings. You can use various methods to dry mats.Clean your wet trampoline with a towel. Or place it in the sun or dry air.
Make sure moisture is Fully removed from the foam or safety pads. If moisture remains in safety pads, it can cause mould formation, which is also fatal to health.
After cleaning the mat, clean springs and defensive cushions. Springs can be cleaned in the same way as a mat—the first soak, then scrubs, and at last rinse with clean, warm water.
UV protection Sprays
After washing or drying use mild UV protection spray on its fabric and rust protection on its springs.
Clean your trampoline springs
After cleaning the mat, clean springs and defensive cushions. Springs can be cleaned in the same way as a mat—the first soak, then scrubs, and at last rinse with clean, warm water.
Trampoline Care and Maintenance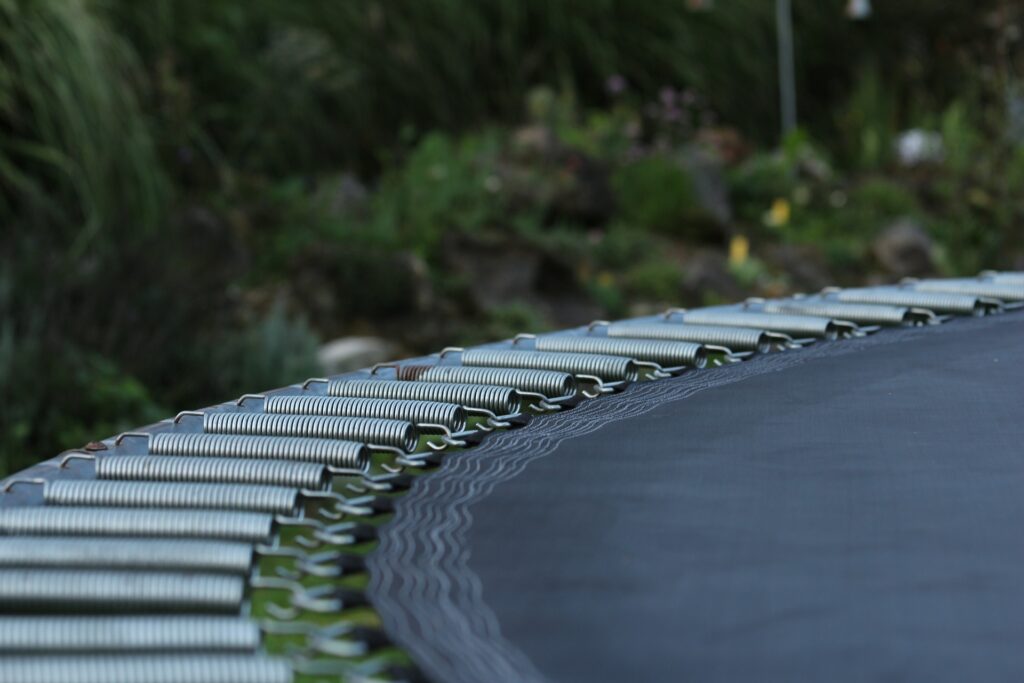 Everything needs care and maintenance is essential to keep anything in good condition. If you regularly maintain your trampoline, your trampoline will stay in good condition for a long time.
Here are some of the tips to protect your trampoline
Clean your mat regularly.
 Rust protection sprays are available in the market. You can use them to protect your mat springs from rust.
If minor scars of rust appear on the trampoline, then scrub your springs with this solution. Take three portions of water and one portion of vinegar in a vessel. Mix this solution well. Scrub the mat with the help of an old toothbrush.
Lubricate the zippers with grease so that they can be zipped and unzipped easily
Avoid using chemicals on your mat as chemicals can damage mat material and its ultraviolet protection coverings.
Warm soapy water is the best cleanser to clean the trampoline. Or use rust-resistant sprays that are of good quality and reliable to use.
When your trampoline mat is not in use, then cover it with a weather-resistant cover because extreme weather conditions and excess sun exposure can damage their outer coverings and materials.
place your trampoline under trees in the winter and autumn season. Because in these seasons leaves shed off from the trees and other debris or dirt materials can also fall on the mat.
Check your mat regularly. There should be no damage or sagging to the jumping mat. If you feel that the trampoline is damaging or its spring is rusting, you should take measures accordingly.
Some important things to consider while cleaning 
If springs began to screech then apply any lubricant to protect them
One most important thing is that don't use a pressure washer to rinse the trampoline. Instead, use a water hose to clean it. If you don't have a water hose, then use a water bucket.
Don't wash the trampoline on a rainy day. Because on a rainy day, the trampoline will not dry. Instead, choose a bright and sunny day. It will ease the drying process.
Conclusion
Cleaning the trampoline is as necessary as cleaning other entities. Proper and usual cleaning of your trampoline will give it a new look. This cleaning process is not very complicated. It is a straightforward and inexpensive procedure that you can easily perform at home with household items. Cleaning also makes it suitable for children. They would not be hurt by pebbles or any stones inside.