Are you sad about that mighty hole in your trampoline? Do you feel like all your money is wasted now?
Trampolines are the most exciting and fun way to maintain your fitness and physique. They are the best fun source and allow you to spend some happy moments with your family.
One thing about the trampoline is that they are a bit costly and you can never imagine spending money twice on this product.
Due to this, it's a bad dream to see a hole in your trampoline.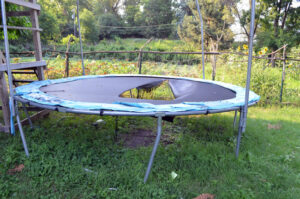 The sad part is that only a tiny hole can ruin this Amazing product and cause damage to it. Isn't it unfair?
You are supposed to check your trampoline almost every day and see if it's in one piece or not.
If you trace a tiny hole and take timely action, you will save yourself from going through a lot of hassle.
When your trampoline is perfectly fine and in good shape, you can enjoy it thoroughly with your family and friends and get the luxury of safe jumping.
But once it suffers any damage, you need to get it fixed to avoid any accidents.
It is a fact that you never think of your trampoline getting damaged anytime soon when buying it.
But if you regularly use your trampoline, it can suffer damage, or a hole can appear on it no matter how high-end it is.
Mats and nets are the parts of the trampoline that usually tear.
It's not recommended to spend a lot of money to get these parts repaired. You can do it on your own too.
If you think you might need to be an expert to get it fixed, you are wrong. Even a little bit of research and concentration is enough for you to it restored.
We are here with some of the most effective ways to help you get rid of holes in your trampoline.
here are 4 ways to patch a trampoline hole.
4 Ways to Patch a Trampoline Hole
The best thing to do to save money is to learn how to repair your trampoline on your own. There are numerous ways to patch a trampoline.
The most reliable method of all this is to get yourself a trampoline repair kit. This will make the task easier for you as you will have all the tools required for the work.
Trampoline Repair Kit
A trampoline can be repaired conveniently if you purchase a repair kit.
After getting a trampoline repair kit, all you need to do is to follow the step-by-step instructions.
In gear, you will get two large patches of strong and sturdy trampoline material, UV-resistant thread, and a strong industrial needle capable of piercing the big trampoline mat.
In addition to these repair kits, we have come up with 4 ways that you can consider depending on the kind of damage your trampoline has suffered and all other factors.
Easy & Quick Sewing Method
Sewing the Trampoline hole is the best option out there. Never buy all the supplies needed individually as it will cost you more. Buying a repair kit is the most effective and pocket-friendly way.
Here are the steps that are required to patch the trampoline hole.
Ask a friend to help you out as this way is most effective with two people. Make him stand on top, and you need to stand on the bottom or switch the roles. Feed each other the industrial needle. For this, you need needle-nose piler, which can be found easily anywhere.

Cut the patch that came in the kit in a circle. Always keep the cutting 2" larger as compared to the tear. This will give some overlap.

To prevent future fraying, run a lighter or matchstick across the edges of the patch.

To keep the patch in place during sewing, pin it.

At last, you need to sew it.
Types of Stitches
There are two popular methods of sewing the patch. These are:
Cross Stitch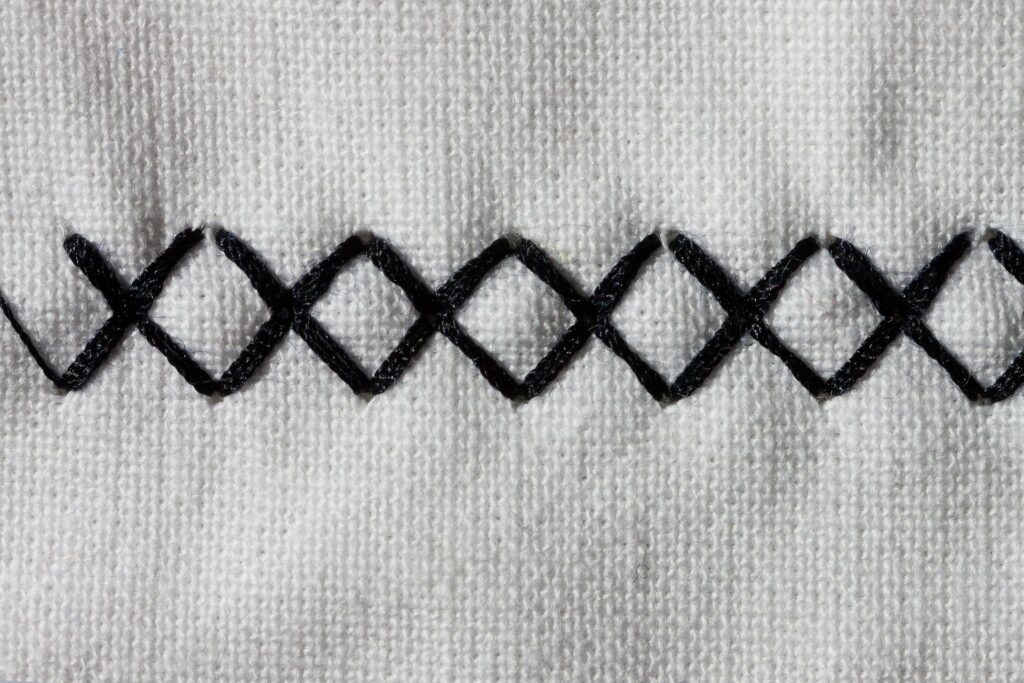 Whip Stitch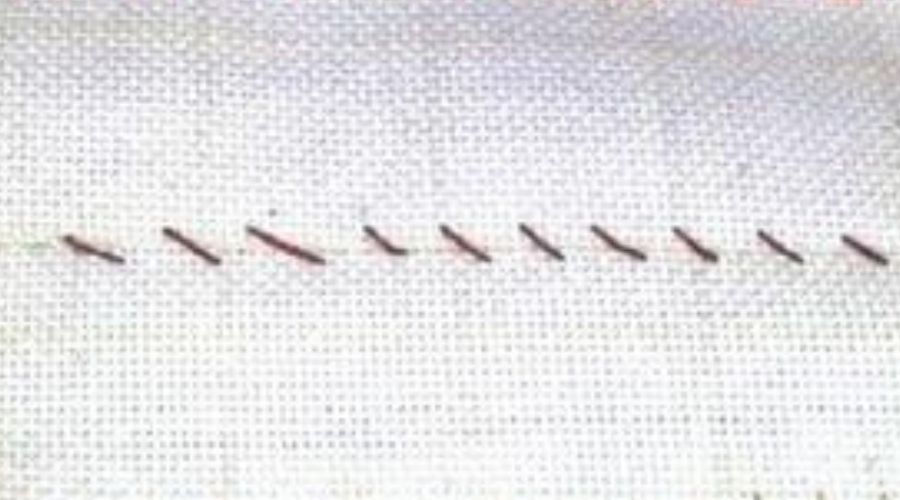 You can go for the one that suits your needs the best. It completely depends on your choice.
Pros of Quick Sewing
The easy and convenient method of sewing has numerous benefits too, including:
This method can help you in repairing a hole that is up to 4" wide.
The entire process can be done by hand.

It is a quick method. You don't need to wait for your new mat to arrive and fix the problem asap.

Another amazing thing is that it's pretty cheap.

Last but not least pro of the quick sewing method is that it lasts for a long time.
No-Sew Repair Method
If you are disappointed that sewing is not your thing, we have picked out a method for you too. So, get excited and explore this no-sew repair method with us.
If you explore the market and the online stores, you will get a no-sew patch that's apparently will be a permanent fix for your trampoline hole.
For this method, a patch kit, cleaner, and isopropyl alcohol are required. After getting all these things, follow these steps:
Clean the top and bottom parts of the mat where you are supposed to use the adhesive.

Keep the patch on the bottom or underside of the mat.

Apply the glue on the top portion of the mat and let the bottom part absorb it.

Leave it for 10 to 12 hours.
Pros or Cons of this method
Although it's a cheap and simple method, there are several cons of it. These include:
The process takes way longer than any other method.

It is effective for a hole that's smaller than or equal to 3".

The method will not work well in cold places as the glue needs a 41° F temperature to cure. 
Flex-Tape Repair Method
The flex-Tape Repair Method is another effective and adventurous method to patch a trampoline hole. It's a waterproof rubberized tape that can be found anywhere.
The tape comes in a 4" wide and 5' long roll. The color of this rubberized tape is black, which goes with most of the trampolines out there.
The maker of the flex tape claims that it can be used both on dry and wet surfaces. Moreover, it is also said that you can use this tape underwater as well.
But we would recommend you not to use it in the rain and prefer a dry spot.
The manufacturers of Flex Tape also claim that it sticks more firmly as time and pressure increase. The flex-tape is also capable of withstanding heavy weather and temperature.
Here are the steps you need to follow.
Apply the tape to the hole on your trampoline mat.

Do the same thing on the underside of the mat.

Use Flex Seal Spray Rubber Sealant Coating to seal the tape. This spray can also be found easily in the market. The Flex-Seal Spray is also said to tolerate extreme weather conditions.

Let it dry as directed on the can.
Pros of Tape Repair Method
The flex tape repair method surely has a lot of benefits. These include:
The method is pretty quick and is, in fact, the fastest repair method.

It is waterproof.

The tape is supposed to last for a long duration.

It's quite inexpensive.

The flex tape is far better than duct tape.
Get it Fixed By a Professional
If you have tried all the methods and not a single one has worked out for you, you can always hire a professional to fix it.
These professionals usually take the mat along, repair it professionally and return it after turning it into a new mat. To get your mat fixed by a professional, you need to follow these steps:
Find a trampoline center that's close to your place and if there is no center nearby, go to the nearest one.

Choose between the three plans available there. These are: Hole patch, normal resew, rebuild.

Wait until you get your trampoline as good as a new one.
Pros of Hiring a Professional
It saves you from a lot of hard work.

The work will be done well.

It's better than buying a new mat.
5 Trampoline Safety Tips
The most important thing in this regard is to take care of your trampoline. This will save you from going through all that hassle of repairing or patching the trampoline.
Here are a few safety tips to keep your trampoline safe and secure.
Stay within the weight capacity of the mat.

Don't jump on a wet trampoline mat.

Prefer using a safety net around your trampoline.

Protect the springs by using a safety pad.

Make sure to not have any sharp objects in your pockets before jumping.
Bottom Line
All these 4 Ways to Patch a Trampoline Hole and the Trampoline Safety Tips will help you keep your trampoline safe and fix the issue of a damaged trampoline.
But the best thing is to ensure the safety of your trampoline. So, make sure to follow all the tips and use these effective methods.