Maple trees are often associated with syrup and pancakes, but there is much more to be known. Maple Firewood is known as the best choice to be used as firewood due to its numerous features.
is Maple Good Firewood
Maple is Good Firewood It's Easily available, Hard Maple provides good heat and Soft Maple has a lower density as compared to other Firewood.
One of the most common reasons to choose maple as firewood is that it is pleasant to use, and anyone can handle it easily.
It smells good and can be split in a simple manner by using a convenient and straightforward process.
Besides this, there is a wide range of other qualities possessed by maple. It is available readily, and a person can buy it according to his/her requirements.
Types Of Maple Trees Used For Firewood
Many types of maple trees have different characteristics, although some have standard features to a bit extent.
In various areas, multiple varieties of maple trees can be used as firewood, some are Silver Maple, Red Maple, Sugar Maple, Norway Maple, Bigleaf, and Boxelder.
Each type of maple firewood has distinct properties and is known for its capacities.
Silver Maple Firewood
Leaves of silver maple are silver in color at the lower end. silver maple Referred as soft maple known also by many names as including creek,
soft, water, white, and silver leaf maple. Its commonly Found In the Eastern united states and has a fast growth rate in different soils.
Is Silver Maple Good Firewood
Silver maple is not as excellent Firewood as sugar maple; birch or other Hardwood because its wood is soft light and weaker.
it's difficult to split but burns Hot. It produces 17.0 million BTUs per cord. it has low smoke and is fast-burning due to low dense wood.
Sugar Maple Firewood
Sugar Maple is the Best firewood In All species of Maple it is Referred to as Hardwood also known as Rock Maple.
its Life Span is up to 150 Years and is commonly used for Maple Syrup Not as Firewood.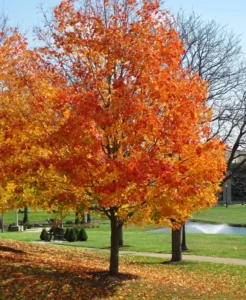 Sugar Maple is Great Firewood To Burn it Produces 24.0 Million BTUs Per cord.
Its Moderate to Split Has low smoke and a Pleasant aroma. it is the Best Choice to burn In the Fireplace.
Red Maple Firewood
Red Maple is Great Wood To Burn But Not As Excellent as Other Hardwoods.
known also as swamp maple.it Produces 18.6 BTUs Per cord.
Red Maple is Found Commonly In Eastern United States and Reaches Up to a Height of  75 meters. Red maple Grows Best in Sunny Partially Shady Locations.
Norway Maple Firewood
Norway Maple Firewood Burn Well When Seasoned Properly it's a hardwood.
it will produce 24.0 million BTUs per cord it's Considered to be invasive.
It's Not Native to the United States and Canada. its Grows Very Fast in Different Soils and conditions. Norway maple is Commonly Planted as a Shade tree.
Bigleaf Maple Firewood
Bigleaf Maple or Oregon Maple Produces a Moderate Amount Of  Heat, it is a Hardwood But Produce Lower Heat output as compared to other Hardwoods.
it will produce 22.7 Million BTUs per cord. Mostly Found On the Pacific coast from Alaska to California.
Manitoba or Box Elder Maple Firewood
Manitoba maple or Boxelder Maple is Low-Density Hardwood. it Burns Very Fast and Produces 17.9 BTUs per cord.
box elder is easy to split its Heat output is not Good as compared to other hardwood. it also Smells bad when Burn.
Soft Maple vs. Hard Maple Firewood
Maple Trees Have two Types Of Wood Soft Maple and Hard Maple.
Soft Maple Has A Soft Weaker and low-Density Wood That's why it produces Low heat output as compared to Hard maple which has hard and high-density wood which produces high heat output and BTUs per cord.
Is Maple a Hardwood?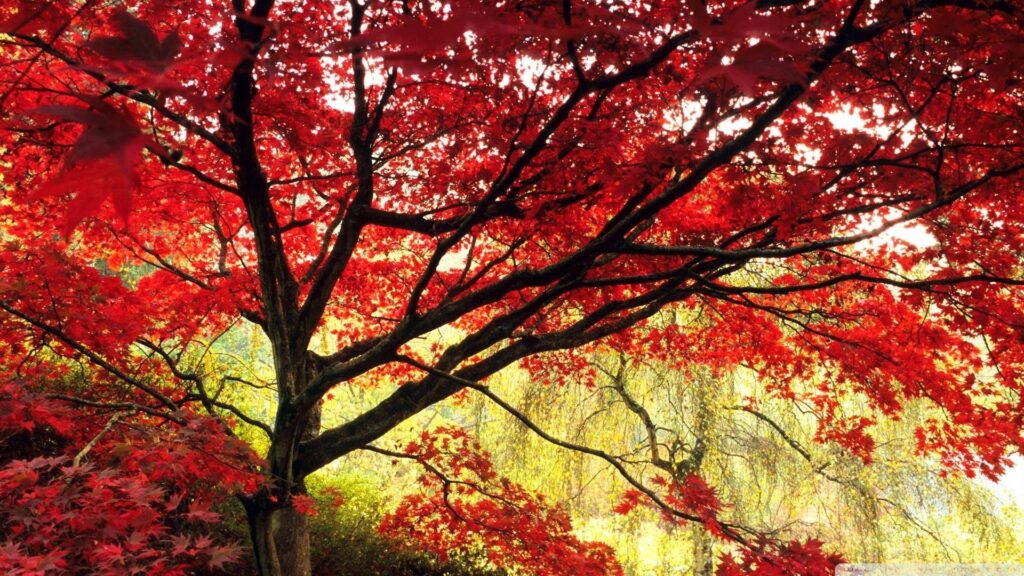 Maple trees are hardwood. They have beautiful colors, and the tree is also used to make maple syrup that can be used in various dishes as a sweetener.
In the northern United States as well as Canada, the maple tree is generally found. After its complete seasoning, the maple tree is burned slowly and can be used as firewood.
The types of maple that can be used as firewood include hard, red, sugar, black and silver maple.
Is Maple hard to split?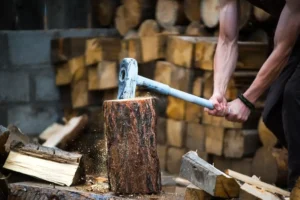 No, maple is very easy to split, but still, there are a few exceptions, such as vine maple is known to be split hard.
Usually, when the leaves of maple are green, they can be split easily by using the splitting ax.
Moreover, a Chainsaw or hydraulic log splitter can also be used in case the leaves are not green.
It is pertinent to mention here that after splitting; maple should be used as firewood instantly.
While burning maple trees does not produce any spark and burns neatly. The maple tree is known to burn correctly after the proper seasoning is done.
Seasoning Maple Firewood
The seasoning time of maple firewood also depends upon the type of maple used.
The best option is to slip maple instantly and not allow it to the season for a more extended period. Due to a long time, it will rot and will also not smell good.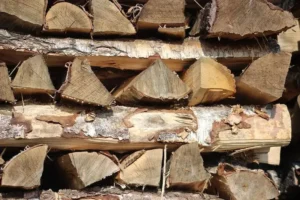 burning at the optimal level, dry maple wood until its moisture content is removed. The wood with the higher moisture content will overburn, which is not suitable for usage.
So, buy the inexpensive moisture meter and measure the moisture content of the maple Firewood before burning.
The hard maple usually takes almost more than six months to season, and to get the best quality of the hard maple, it should be strengthened for up to two years.
The best moisture content of maple Firewood should be between five to seven percent before burning. Red maple can be seasoned almost in eight months, and the best seasoning is done in three years.
Similarly, the silver maple can be seasoned in three months and sometimes before that. To get better seasoning,
the silver maple should be strengthened for two months. The ideal moisture content for this type of maple is twenty-eight to thirty-two percent.
The duration of drying maple matters a lot and maple wood should be dried properly before burning.
But the main point to consider is to choose the type of maple by analyzing its heating capacity.
While comparing with the other woods, maple takes less time and dries quickly. Thus, stack maple woods in the spring season, and after six months, they will be ready to be burned. Maple is highly efficient because of its burning capacity.
It produces a low-blazing fire and burns steadily without creating any mess. By far, maple is known to be best used for burning purposes.
It lasts for a longer duration and burns altogether. So, make sure to dry maple, regardless of the variety you are using, before placing it for burning.
Is Maple Firewood Expensive?
Maple firewood is not generally expensive, although it cost a little, still being the best option to consider for firewood the people uses maple.
The maple firewood cost is less compared to other firewood that includes oak, walnut, or cherry.
Moreover, maple firewood cost also depends upon the season and the area in which you are living.
The best option is to cut and season your maple as it is very cost-effective.
In this way, money can be saved, and most importantly, the quality of maple will be outstanding.
But in the case of direct purchase, maple firewood is not as expensive and can be found anywhere, but makes sure to choose the perfect one.
Use of Maple Firewood In Fireplace
This great aroma is also used to smoke meat and can also be used in the fireplace. In burning wood stoves, they produce steady burns that make them an excellent option to use in the fireplace.
There are various firewood species that one can choose from, and it provides high heat, so it is the best choice for firewood.
Overall, the maple is the favorite choice of many people, and the trees are also ubiquitous that people can buy for various purposes to fulfill their needs.
They look gorgeous in autumn as their leaves turn into different colors.
The change in the shade of maple trees varies for each type, but all of them have heating capabilities to be used for burning purposes in the winter.
BTUs Value Of Some Common Firewood
| | | |
| --- | --- | --- |
| Species | BTUs | Weight/Cord (lbs) |
| Black Locust | 29.3 | 4192 |
| Hickory | 28.5 | 4072 |
| Beech | 27.5 | 3760 |
| Oak (White) | 26.4 | 3776 |
| Mulberry | 25.8 | 3712 |
| Ash | 24.2 | 3472 |
| Maple (Hard) | 23.9 | 3408 |
| Black Walnut | 22.2 | 3192 |
| Pine (Southern Yellow) | 22 | 2936 |
| Birch | 20.8 | 2992 |
| Sycamore | 24.1 | 2872 |
| Black Cherry | 20.4 | 2928 |
| Elm | 20 | 2872 |
| Maple (Soft) | 19 | 2752 |
| Aspen | 18.2 | 2160 |
Processing and Heating Value
There are also some unique species of maple firewood due to their characteristics; depending upon their burning capabilities, all maple trees are great for usage.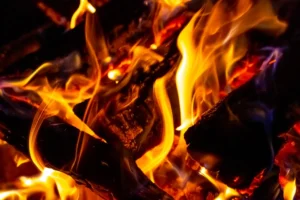 Maple firewood has a comparatively higher heating value, and proper time is also needed to burn these maple trees completely. Sometimes maple wood has an average heating value depending upon the type and can also be separated easily.
However, some maple trees have the worst heating value, but after burning, they divide quickly.
How To Fire Maple?
The procedure to fire maple is straightforward. The first step is to take the ax, divide the maple using it, and burn it. Generally, the silver maple can be separated more easily than the sugar or the red maple. After cutting:
Build the base of the trunks where you can put the divided pieces of maple.
First of all, fill the space with various things: newspapers, wood shaving, and flammable material that facilitate maple's burning process.
Place maple pieces on the base, and by using the ignition, fire the maple.
Depending upon the requirements, add more logs of maple.
This step to step process makes it easier for anyone to split maple and fire it. So, you no longer need to be an expert to be able to fire a maple.
Advantages and Disadvantages of Burning Maple 
There are various advantages of burning maple as firewood. The pros of burning maple are listed below.
Maple is naturally a dust eliminator. Burning maple will keep all kinds of contaminants and allergens away.
Maple is known to give off a delightful aroma while burning which seems pretty pleasant.
It is readily available in areas like the US and Canada.
Some cons of burning maple include its extreme sensitivity to high humidity and moisture. This makes the maintenance of this wood challenge.
Final Words
Maple is good firewood and can be used easily without going through any kind of hassle. Although maple tree has different species, so one can choose the type as per their need.
Their heating value is relatively higher, so people mostly prefer to use them. Furthermore, maple has excellent characteristics and can be found in various areas, mainly in the United States.
Besides its many other features, the cost is something that's the main reason for its high demand. The cost of maple is comparatively lower than other trees that can be used as firewood.
So, if you are looking to choose the best firewood, our advice is to go for maple firewood.