There are tons of reasons for buying a trampoline. It may be because you are an acrobat or a jumping fanatic, maybe your kids have asked for a trampoline, or is it that you love it. It seems easy to buy a trampoline but to be honest, it's not that easy. You will realize it too once you enter the trampoline market. Numerous decisions are involved in coming to a final decision on buying a trampoline. You have to choose from a wide variety and category of these trampolines.
We know that you can be confused at times, and to help you come out of all those confusions, we have come up with all the required information regarding trampolines. Let us start with the basics. Trampolines usually come in four different shapes. These are round, square, rectangular, and oval. Although they come in some novel shapes like octagon or hexagon, these are rare shapes so let's not talk about them.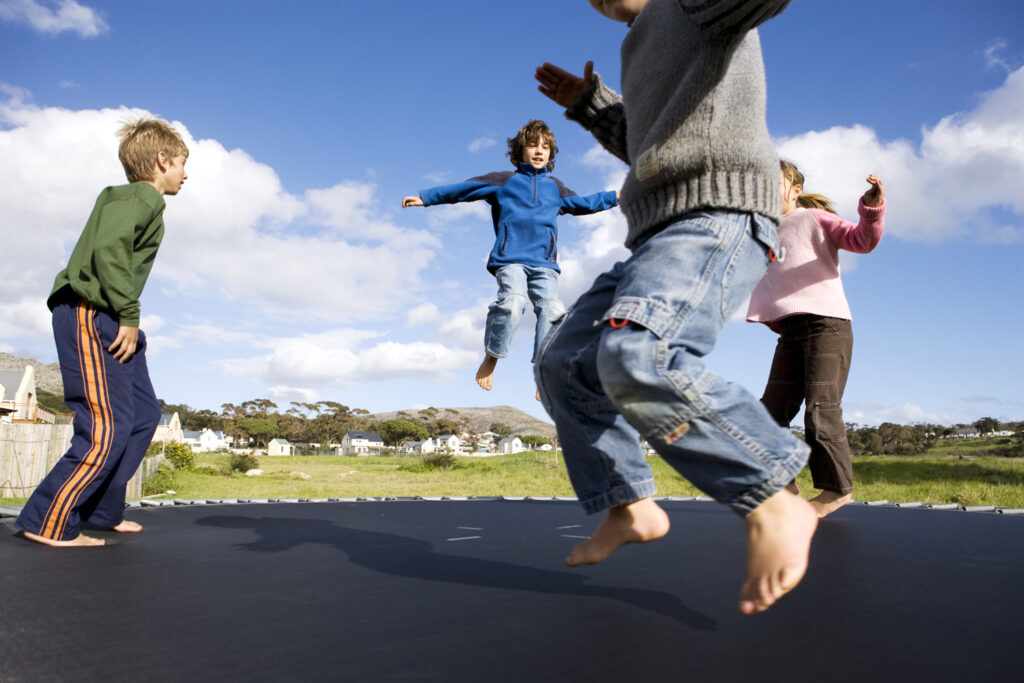 So, without any further ado, let us dive straight into comparing these shapes and finding out which shape will work best for you and what kind of pros and cons accompany these shapes.
Square vs Round Trampoline
Square Trampoline
When it comes to intermediate jumpers, a square trampoline works best. The reason for this is these three factors:
Large space to perform tricks.

Ability to jump and land wherever you want.

Good Quality of Bounce
In the square trampoline, the quality of bounce is firmer and stronger. In comparison with a round trampoline, you can jump a lot higher on a square trampoline. A square trampoline will allow you to do all the tricks, including backflips and other stunts, with much more convenience and ease.
If you plan to perform different kinds of jumps and jumping techniques on your trampoline, a square trampoline will make it easier for you. The corner to corner distance of a square trampoline is higher than that round one. In fact, a square one provides you with 20% more jumping space, which is insane.
Moreover, with a square shape, you can jump anywhere you want. These trampolines will not pull you back in the middle, just like round ones. This is because of the sufficient and significant distance between the corners. The execution of stunts gets a lot better because of this. The best thing about the square shape is that the space usage will be maximized. As most of the garages and backyards are in square shape rather than a round one, a square trampoline is easily placed.
Round Trampoline
A round shape is more stable and safer as it directs the jumper to the middle of the trampoline. This is extremely convenient when doing daily exercise. The quality of bounce should be soft and consistent for a trampoline that is used for fitness. A round trampoline serves this purpose the best.
With a round trampoline, the impact of jump on the body is significantly reduced. This is great for the seniors as their joints will not be dislocated during the exercise. A round trampoline accomplishes this task through the placement of springs. The springs are equally placed around the trampoline, which allows the force to be distributed equally around the surface.
A round trampoline is built in such a way that it allows the frame to absorb each bounce. This is beneficial in keeping the trampoline safe and secure for a longer time. This is also one reason for the bouncing back of the users to the middle of the trampoline.
In addition to this, a round trampoline is designed so that less material is used in its making. Moreover, they are often lightweight and take up less space. Despite all these features, a round trampoline is not heavy on the pocket.
A round trampoline is best for beginners as it will move them back to the middle no matter where they jump. As the springs are pulled simultaneously, the bounce that you get is a lot more consistent and softer.
Square or Rectangle Trampoline
If you are not a fan of circular trampolines, square or rectangular trampolines are the options you are left with. We have already discussed square trampolines in detail. Now let us jump straight to the rectangle ones.
Rectangular Trampolines
Rectangular trampolines offer great bounce, as well as usability. Among all the bounces out there, rectangle trampolines come up with the best of them. The jumper can do numerous tricks, including backflips, somersaults, and several others on a rectangle trampoline.
These trampolines are mostly recommended to experienced or senior jumpers. Talking about the weight limit, a rectangle trampoline can bear more weight than a square one. It can bear a weight ranging from 250 to 450 lbs.
If you are a professional athlete or acrobat, a rectangle trampoline is best for you. These are also recommended for growing families. Moreover, gymnasts and divers prefer going for a rectangle trampoline to perform numerous stunts and aerials at once.
Oval vs. Round Trampoline
Both the oval and round trampolines are preferred by people that want their trampolines to be circular. If you are one of them and are confused between these two shapes, we have you covered. Let us compare these two shapes and find out which one of these will suit you the best. As we have already talked about the round trampolines in detail, let us discuss oval ones now
Oval Trampolines
The shape is the main point of difference between these trampolines. Oval trampolines usually take up more space as they are elongated in their shape compared to round ones. So, if you have a large space in your backyard, oval trampolines will work for you. In case of limited space, you need to go for the round ones.
Although oval trampolines take up more space, they offer a large jumping area too. This implies that you will ultimately have more jumping room to enjoy. Just think about the space you need while jumping. Moreover, numerous people can jump at the same time on an oval trampoline.
With round trampolines being popular when it comes to safety, an oval one is even more secure than a round trampoline. This is due to the two center points that come with an oval trampoline. But if only a single person is going to jump at a time, both shapes' safety concerns are comparable.
From the price point of view, an oval-shaped trampoline is a bit expensive compared to a round one. This is because of the less material that's used in the making of round trampolines. In addition to this, the assembly of an oval trampoline requires more attention and carefulness as compared to round trampolines.
Final Words
There is no doubt left that rectangular trampolines are good for experts. The rest can choose from all other shapes, such as square, oval, or round, depending upon their needs. All of them have some features that make them better than others. You can choose what suits you the best as none of them will do any bad for you. Have fun!